TRADE DEADLINE EDITION!
Week 17 was officially a fustercluck. I'm not sure if I cared more about the games, or about who was going to be wheeling and dealing. The deadline is the usual litmus test around the league to see what front office thinks they can contend.

In the East, we saw a veritable arms race start 48 hours before deadline day, with the 76ers trade for Tobias Harris, effectively creating the first "Big 4" in the league (yea I don't think Draymond constitutes as a "big" four, don't @ me). What followed could only be considered a NBA fans wet dream worth of deals.

This week I've done my normally weekly schedule parsing, as well as adding some trade deadline information for each team in the top 5. You'd think every team listed here would have made at least a small attempt to bolster their rosters, but SPOILER WARNING only two teams did. Let's see who they are…
ADDENDUM: To obtain an A+ grade, your team must've traded for Anthony Davis.
1. Milwaukee Bucks (41-14)
Week 17 record: 3-1
Offensive Rating: 113.3 (4th)
Defensive Rating: 103.8 (1st)
Net Rating: +9.5 (1st)
Week 17 Key Additions: Nikola Mirotic
Week 17 Key Subtractions: Thon Maker, Stanley Johnson (Cup of Coffee)
Trade Deadline Grade: A

Sirens went off in my fantasy league's slack chat this weekend.
——————————————–GIANNIS IS OUT! ———————————————
Well, it just turned out to be a bought of "knee soreness", but the Bucks looked absolutely lost without Giannis. This might be a solid clue to who is going to win the MVP this season. Otherwise, the Bucks absolutely obliterated their competition this week (strength of schedule non-withstanding, with games against Brooklyn, Washington and Dallas).

Outside of a decent week 17, the Bucks managed to turn Thon Maker and 4 second round draft picks into what could be the best depth bench big in the league now: Nikola Mirotic. Nikola has been averaging a cool 16 points and 8 rebounds, with 2.7 made 3's in 29 minutes played a game. If I'm coaching against the Bucks for the remainder of the season, I might just tell my team to take a night and call up the G-League Affiliate squad.
2. Toronto Raptors (41-16)
Week 17 Record: 3-0
Offensive Rating: 112.2 (7th)
Defensive Rating: 107.1 (8th)
Net Rating: 5.2 (6th)
Week 17 Key Additions: Marc Gasol
Week 17 Key Subtractions: Greg Monroe, CJ Miles, Delon Wright, Jonas Valanciunas
Trade Deadline Grade: A
A bounce back week after a crap week 16, sees the Raptors take wins against the 76ers, Hawks and Knicks. The night after beating the 76ers, Elton Brand (GM of the 76ers) made the deal for Tobias Harris. This may or may not tell the average person what kind of threat he sees the Raptors as.

As for trades, the Raptors were rumoured to be the most aggressive team on the trade market this year. They were apparently making offers on Anthony Davis, Mike Conley with or without Marc Gasol, Nikola Mirotic, Julius Randle and Bradley Beal. Yup. this is the "all in" year for Masai and company. When it was all said and done, Marc Gasol was in a Raptor uniform come Tuesday night.

Recently things have been a bit up and done for the Raptors, so one can only hope that this deadline can forcibly turn up the heat for Kawhi and company.
3. Golden State Warriors (40-15)
Week 17 Record: 3-0
Offensive Rating: 116.1 (1st)
Defensive Rating: 108.7 (14th)
Net Rating: +7.4 (2nd)
Week 17 Key Additions: Standing pat.
Week 17 Key Subtractions: Standing pat.
Trade Deadline Grade: If it ain't broke, don't fix it.
You know me, and my lack of enthusiasm for writing about the defending champs. However, I found myself utterly drawn to the Sunday night Warriors v. Heat game which ended in a 2 point win for the Warriors.

Father Prime and the Heat almost took the Warriors to the brink that night. If you didn't see the game, or catch the highlights, feel free to check out this recap. It had me on the edge of my seat all night.
4. Oklahoma City Thunder (36-19)
Week 17 Record: 3-0
Offensive Rating: 110.2 (13th)
Defensive Rating: 104.9 (3rd)
Net Rating: +5.4 (5th)
Week 17 Key Additions: Standing pat.
Week 17 Key Subtractions: Standing pat.
Trade Deadline Grade: E for effort.
I truely believe we are witnessing this generations Mike and Scottie in Russ and Paul. However, it's more like Mike and Mike? Or Scottie and Scottie. It seems like it shifts every game.

The Thunder took down the Magic, Grizzlies and Rockets in week 17, and didn't blink once when it came to making a roster upgrade. The Thunder had Russ and Paul making the following lines this week:

Why Not Zer0.2: 17.3 ppg, 13.3 rpg, 14.0 apg, 2.3 spg, 0.7 bpg
PG3: 37.0 ppg, 8.0 ppg, 3.3 apg, 2.7apg on SIX MADE THREES A GAME

I believe in my heart of hearts that the Thunder are the only team in the West that are truly a threat to the Warriors. As for their rank this week? I would expect that week 16 was officially the last week I omit them from the top 5.
POST EDIT
The Thunder posted this infographic on twitter after 120-111 win against Portland on Monday night. It might help illustrate how hot the Thunder have been recently.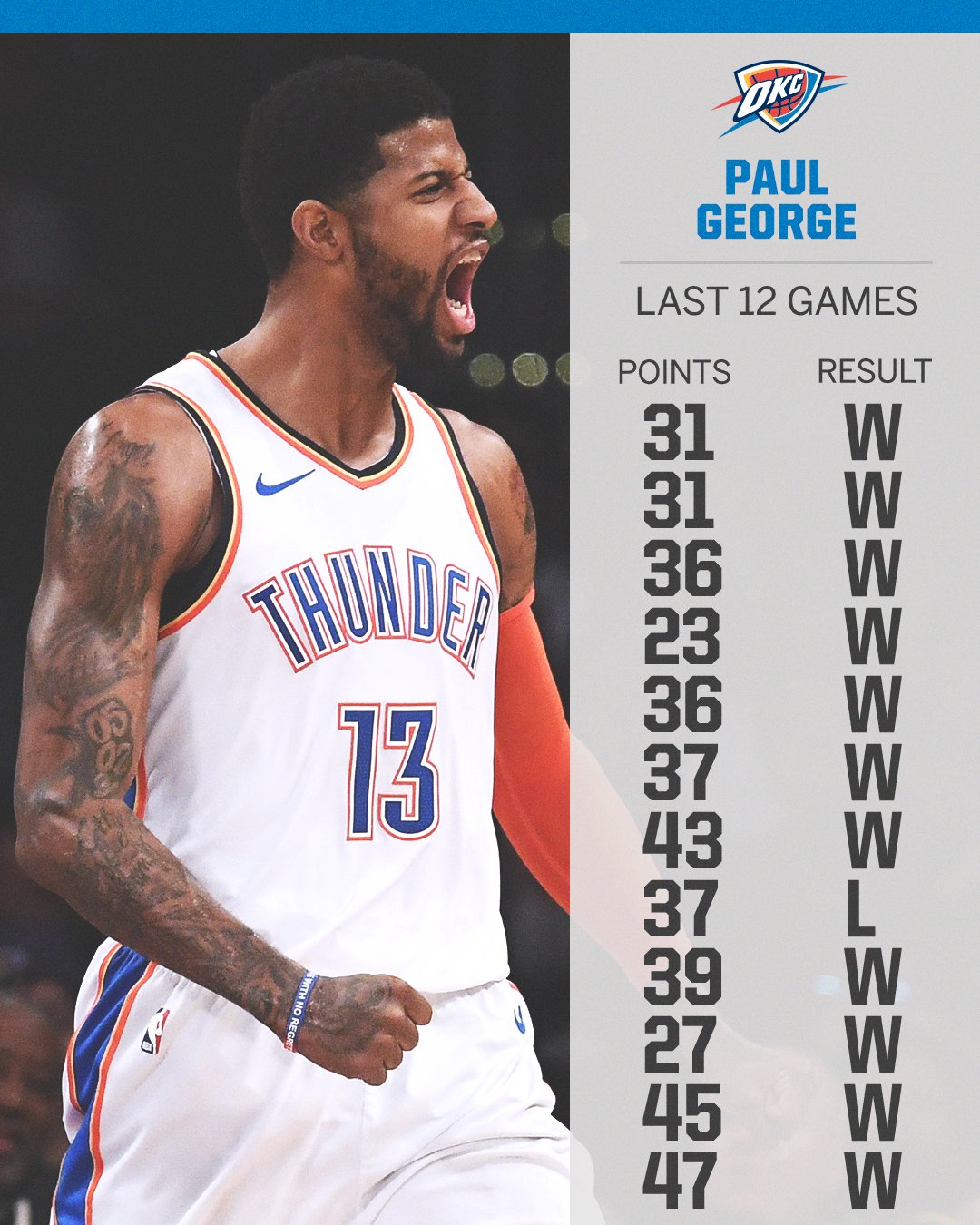 5. Denver Nuggets (37-18)
Week 17 Record: 0-3
Offensive Rating: 113.6 (3rd)
Defensive Rating: 108.8 (15th)
Net Rating: +4.8 (7th)
Week 17 Key Additions: Standing pat.
Week 17 Key Subtractions: Standing pat.
Trade Deadline Grade: Isaiah Thomas
The Nuggets almost slid right out of the top 5 this week. No team bolstering deals, and a crap 0-3 week 17 really meant that they shouldn't have been here at all. However, regardless of their week, the Nuggets still have their reputation from the past 16 weeks holding them in the top 5, for now.

You can basically consider Isaiah Thomas to be their deadline acquisition, as he will be returning VERY soon. He was pushed to the Denver G-league affiliate to get rid of the rust, so expect Mr. Thomas to be exacting his revenge on the league again at any moment.

The only good news this week coming out of the Mile High City was that the Joker was able to put up 2 more triple doubles. Hopefully he can help turn the Nuggets fortune around in week 18, otherwise we can see teams like Philadelphia or even Indiana breathing down their collars to sneak into the top 5.